La Vista Clinic Speakers
Ryan Gottula – Head Coach Lincoln Southeast High School (NE)
Chad Fox – Head Coach Wahoo High School (NE)
Conor Riley – Kansas State Offensive Line Coach
Zach Lujan – Quarterbacks Coach South Dakota State University
Guy Rosenberg – Head Coach Elkhorn South High School (NE)
Michael Huffman – Head Coach Bellevue West High School (NE)
Steve Martin – Head Coach Wichita Northwest High School (KS)
Seth McClain – Head Coach Fremont High School (NE)
Kody Morgan – Assistant Coach North Dakota State University (ND)
John Stiegelmeier – Head Coach South Dakota State University (SD)
Paul Heusinkvelt – Head Coach Overton High School (NE)
Sean Birks – Head Coach Audubon High School (IA)
Hayden DeLano – Head Coach Cross County High School (NE)
Reed Manstedt – Head Coach Waverly High School (NE)
Seth Bass – Head Coach North Shelby High School (MO)
NE/IA State Champions

Sign up now for early bird discounts!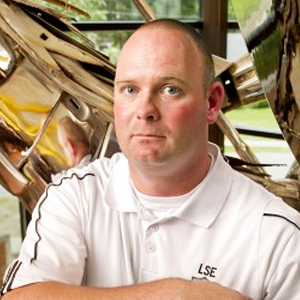 Ryan Gottula – Head Coach Lincoln Southeast High School (NE)
Coach Gottula has been the head coach at Lincoln Southeast since 2011. Prior to that he spent time as the offensive coordinator at Omaha Westside High School and also coached DB's and QB's at Southeast before taking over as head coach. Under Gottula's guidance, Lincoln Southeast has been conference champions in 2011, 2012, 2016, and 2019 with a Class A state title in 2011. Gottula has been named the Lincoln Journal Star Coach of the Year in 2011-2012 and also won the Semper Fidelis Coach Award in 2015.

Chad Fox – Head Coach Wahoo High School (NE)
Prior to becoming the head coach at Wahoo High School, Coach Fox served as an assistant at Fremont Bergan, Gibbon, and Papillion-LaVista High Schools. In 2002, Coach Fox took over as head coach at Wahoo High School and has a record of 129-53 in that span. His teams have six district titles and have been in the state playoffs 15 times. During those playoff runs, Wahoo has advanced to the quarterfinals seven times, semi-finals four times, and was the Class C1 state champions this past season.

Conor Riley – Kansas State Offensive Line Coach
One of the top offensive line coaches in the nation, Coach Riley enters his second season at Kansas State in 2020. In 2019, he coached four linemen that earned All-Big 12 honors from either the league's coaches or the Associated Press, the most by the Wildcats since 2012. The Wildcat line paved the way for 178 rushing yards per game to rank fourth in the Big 12. Thanks in large part to Riley's guidance of the line, K-State led the nation in red zone offense. Prior to Kansas State, Riley was the O-line coach at NDSU under Chris Kleiman and helped NDSU win five national championships during his tenure. Riley is an Omaha native and enjoyed a standout career at Creighton Prep before playing college ball at Air Force, Kansas, and UNO.

Zach Lujan – Quarterbacks Coach South Dakota State University
Lujan finished his second year as an assistant coach on the offensive side of the ball for the Jackrabbits after helping lead them to three consecutive Football Championship Subdivision Playoff berths as a player. After starting as the running backs coach, Lujan transitioned to quarterbacks last season. In 2018, Lujan helped guide a rushing attack that averaged 230 yards per game which was the highest total in the Division 1 era of Jackrabbit football. A native of Anchorage, Alaska, Lujan played quarterback for the Jackrabbits from 2014-2016 compiling a 10-5 record as the team's starting quarterback and was named to the Missouri Valley Football Conference All-Newcomer Team in 2014.

Guy Rosenberg – Head Coach Elkhorn South High School (NE)
In eight season as head coach at Elkhorn South, Coach Rosenberg has a record of 69-22 including an impressive 34 game winning streak from 2015-2017. During his tenure, Elkhorn South has won two Class B state championships in 2015 and 2016.

Michael Huffman – Head Coach Bellevue West High School (NE)
*Coach Huffman has put together an impressive run over the past five seasons amassing over 50 wins with only five losses. Bellevue West has been runner-up in 2015 and 2018 and state champions in 2016 and 2019. Coach Huffman's offenses have had the top scoring and yardage offense in Class A five out of the past six seasons.

Steve Martin – Head Coach Wichita Northwest High School (KS)
Coach Martin's offensive mindset has helped Wichita Northwest become one of the most dynamic teams in Kansas over the past five years. His 2018 team holds the Kansas record for most total yards in a season and his 2015, 2016, and 2018 teams hold records for most yards in a game. Since 2015, Martin's teams have averaged 50 plus points per game in 5A. In 2018, Northwest finished as the Class 5A Runner Up. Martin's personal achievements include being named president of the Kansas Football Coaches Association from 2015 – 2018, the 2014 Kansas Shrine Bowl Head Coach, and the GWAL Coach of the Year in 2015 and 2018

Seth McClain – Head Coach Fremont High School (NE)
Coach McClain has been coaching in Nebraska for the past 20 seasons with the last 11 years as a head coach. McClain was a head coach at Schuyler High School for two seasons before taking over the head duties at Fremont High School. In 2017, he led Fremont High School to its first winning season in 20 years and also guided them to their first playoff appearance in 10 seasons. McClain has coached two former NFL players, Kyle Emanuel and Ricky Henry. He was named as an assistant coach in the 2017 Shrine Bowl. In college, McClain was a four year starter on the offensive line at Peru State. He and wife, Katie, have four children…Maggie, Jenna, Collin, and Anna.

Kody Morgan – Assistant Coach North Dakota State University (ND)
*Coach Morgan serves as a defensive backs/special teams coach at North Dakota State University where he has served in that capacity since 2016. Prior to coaching at North Dakota State, Morgan coached at the University of Wisconsin-Stevens Point, the University of Mary, and the University of Wisconsin-Stout. A four-year starting cornerback from 2008 to 2011 at Wisconsin-Stevens Point, Morgan was part of a conference championship team in 2008.

John Stiegelmeier – Head Coach South Dakota State University (SD)
John Stiegelmeier, the winningest football coach in South Dakota State history, has built the Jackrabbit program into a yearly contender within the Missouri Valley Football Conference and the Football Championship Subdivision. His teams continually compete at the highest level and have reached the FCS playoffs nine times and are one of only two FCS programs to reach the postseason each of the past eight seasons. Stiegelmeier has never had a losing record in Missouri Valley play in the 12 seasons it has played in what has proven to be the toughest FCS conference. Aside from coaching, Stiegelmeier is active in the Fellowship of Christian Athletes, serving on the state board of directors and as the organization's SDSU faculty representative. He was presented with the organization's Grant Teaff Award in 2016.

Paul Heusinkvelt – Head Coach Overton High School (NE)
Coach Heusinkvelt played football at Peru State College before becoming an assistant for the Bobcats from 2003-2006. From there he coached at Harvard High School and Medicine Valley before taking over at Overton in 2011. In his nine seasons, Overton has a record of 52-35 and has been in the playoffs seven of those nine years. Under Heusinkvelt, Overton advanced to the quarterfinals in 2018 and the semi-finals twice, including this past fall. Heusinkvelt is married with five children.

Sean Birks – Head Coach Audubon High School (IA)
Over the past seven seasons, Coach Birks has a record of 61-16 while coaching at Audubon High School. During that span, his teams have qualified for the playoffs six times, have been district champions three times, and were the state runner-up this past season (2019).

Hayden DeLano – Head Coach Cross County High School (NE)
Born and raised in Miami, OK, Coach DeLano attended Wayne State College and now resides in Stromsburg, NE with wife, Kelsey, and son, Knox. Coach DeLano started his coaching career in Winside, NE, as a volunteer coach before becoming the defensive coordinator at Appleton City, Missouri. While at Appleton City, the Bulldogs had their first playoff win in over a decade and DeLano's defense placed five players on the all-district team and one on the all-state team. In 2017, DeLano became the head coach at Cross County High School. He has had two 1,000 yard rushers in the same season for the first time in school history and his 2019 team make it to the semi-finals for the first time in school history. For his efforts this past season, DeLano was named the Class D-1 Huskerland Prep Coach of the Year.

Reed Manstedt – Head Coach Waverly High School (NE)
During Coach Manstedt's first season as head coach at Waverly High School, the Vikings finished the season with a record of 10-2 and earned a trip to the state semi-finals in Class B. As head coach and defensive coordinator, Manstedt's defense set the school record for fewest rushing yards allowed per game at 91 yards. Prior to coming to Waverly, Manstedt was the head coach at Crete High School from 2015-2018 and served as Crete's defensive coordinator for three years under coach Chuck McGinnis from 2012-2014. Manstedt served as an assistant coach for the 2019 Nebraska Shrine Bowl.

Seth Bass – Head Coach North Shelby High School (MO)
Coach Bass has a wealth of coaching experience that spans from the collegiate level to high school. He spent the first five years of his career coaching NAIA football where he was able to help develop two All-Americans. Since then, he has coached high school football in Tennessee, Illinois, and Missouri. Upon arriving at North Shelby in 2016, Coach Bass inherited a program that had lost 65 of 66 games and was entering their first year of 8-man football. Since then, his teams have gone 24-20 including a 16-7 record the past two seasons. They won their first conference championship since 1999 and posted a 9-3 record while climbing to #3 in the polls last fall before losing in the quarterfinals to the state runner-up. Since switching to the 2-3-3 defense, North Shelby has finished in the top 10 in scoring defense both years and has posted a +26 turnover margin.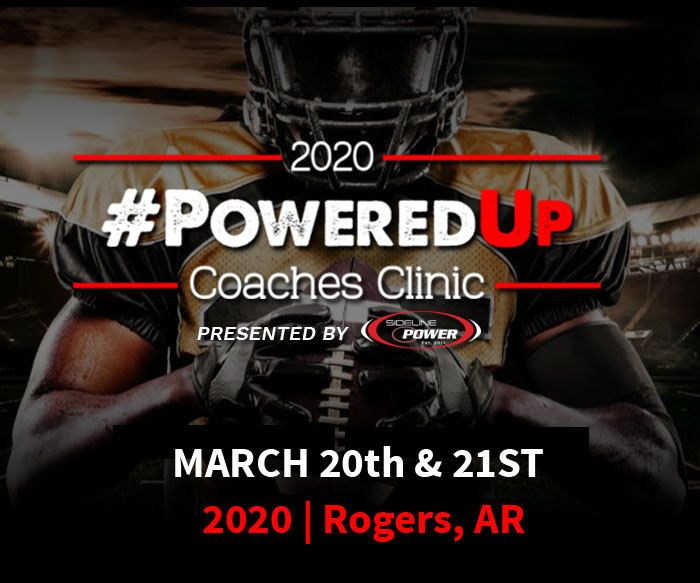 Rogers Clinic Speakers
Rick Jones – Head Coach Greenwood High School (AR)
Rion Rhoades – Arkansas Razorbacks Assistant Coach
Nathan Foster – Defensive Coordinator Union HS (OK)
Aaron Danenhauer – Offensive Coordinator Bentonville HS
Tyler Schneider – Offensive Coordinator– Bixby HS (OK)
Jacob Gill – Defensive Coordinator/Safeties/Asst HC – Shiloh Christian HS (AR)
Rodney Flowers – Defensive Coordinator – Bixby HS (OK)
Sean Riley – Southwestern Assemblies of God U (TX)
Jeff Conaway – AD/Head Coach Shiloh Christian HS (AR)
Andrew Shanle – Head Coach Cypress Ridge HS (TX)
Bryant Davis – Offensive Coordinator Fayetteville HS (AR)
Deerick Smith – Director of Strength & Conditioning Southside HS
Adam Gaylor – Defensive Coordinator Jenks HS (OK)
Russ Martin – Former Head Football Coach Colorado Mesa U
Missouri State Coaching Staff
OK/AR State Champions
Sign up now for early bird discounts!

FEATURED SPEAKER
Rick Jones – Head Coach Greenwood High School (AR)
Rick is the head football coach at Greenwood, AR High School. In his 30 seasons as a head coach, Jones' overall record stands at 307-72 with nine state championships and five runners-up. His current record at Greenwood stands at 175-24 with eight state championships and three runners-up. His multiple achievements and awards include being named 18 times "Coach of the Year," "2012 National Coach of the Year," 2018 AFCA Power of Influence National Coach of the Year, and Oklahoma High School Coaches Hall of Fame Inductee, to name a few. But he'll tell you his greatest accomplishment is building up and empowering others, especially young men, to be successful in life.
​"We don't allow ourselves or anybody else to make excuses, because that sets you up for failure."
Rick is a positive influencer that has taken motivational and leadership skills from the football field and applied the same principles to business and life. An accomplished speaker, he has visited 15 states and Canada to share his positive messages with business employees, coaches, leaders, students, athletes, teachers, administrators, doctors, churches, and civic groups.

FEATURED SPEAKER
Rion Rhoades – Arkansas Razorbacks Assistant Coach
Rion Rhoades gets his first opportunity at the FBS level after coaching the last 14 years as a head coach at the junior college level, including the last 13 as the head coach at Hutchinson Community College in Hutchinson, Kansas.
A former Hutchinson linebacker for Pittman in 1993, Rhoades returned to his alma mater as the head coach in 2007 after turning around a struggling Fort Scott CC program in just one year. At Hutchinson, Rhoades quickly worked his magic taking the Blue Dragons to a Region VI runner-up finish in his second year then kicking off a run of six straight seasons that saw his program win the Salt City Bowl, capped by an 11-1 season in 2014 that also claimed the Jayhawk Conference and Region VI championships.
In 2019, Rhoades' squad finished 10-2 and No. 3 in the final NJCAA rankings after another Salt City Bowl title. The No. 3 finish was the highest the Blue Dragons have ever finished in the final poll and the fifth time a Rhoades-led Hutchinson team finished inside the Top 10 in his 13 years as head coach. He left the junior college ranks 106-55 as a head coach with a 99-50 mark at Hutchinson.
As a player at Hutchinson, Rhoades made an immediate impact as a freshman with 138 tackles as a linebacker to help Pittman and the Blue Dragons to a 6-5 season and a trip to the Valley of the Sun Bowl in 1993. As a sophomore and team captain in 1994, Rhoades led Hutchinson with 130 tackles and helped his team to a third-consecutive winning season with an 8-4 record and a ranking of 15th in the final NJCAA poll. Following his two years at Hutchinson as a player, Rhoades transferred to Western Illinois and then to Northwestern Oklahoma State, where he was an NAIA All-America linebacker.

Nathan Foster – Defensive Coordinator Union High School (OK)
Coach Foster just completed his 9th year as a defensive coach for Union High School in Tulsa. During his time at Union, he has coached cornerbacks and linebackers and has been the defensive coordinator for the past three seasons.

Aaron Danenhauer – Offensive Coordinator Bentonville High School
Coach Danenhauer has been the offensive coordinator and O-line coach at Bentonville since 2013. Prior to that he served as the freshmen offensive coordinator from 2008-2009 and the varsity offensive line coach in 2010. During his time at Bentonville, the Tigers have been a roll having won the state title in 2008, 2010, 2013, and 2014 and the runner-up in 2011, 2012, and 2017.

Tyler Schneider – Offensive Coordinator/Quarterbacks – Bixby HS (OK)
Bixby High School has set a high standard in Oklahoma high school football. With Coach Schneider, the Spartans have five 6AII state championships (2014, 2015, 2016, 2018, 2019) and one state runner-up (2017). This past season, the Spartans' potent offense averaged 56.2 points per game.

Jacob Gill – Defensive Coordinator/Safeties/Asst HC – Shiloh Christian HS (AR)
Coach Gill graduated from MidAmerica Nazarene University in 2010 and began his coaching career at Olathe Northwest High School before moving to Siloam Springs High School to coach defensive backs. He moved into the co-defensive coordinator role in 2013. Coach Gill next moved to Springdale High School in 2014 as a defensive backs coach and was promoted to the special teams coordinator in 2015. In 2017, he was hired at Shiloh Christian to coach defensive backs before moving into the defensive coordinator role and is currently also the assistant head coach. Shiloh Christian made it to the state semi-finals in 2018 and were the state runner-up this past season. Coach Gill has been married to wife, Kala, for 11 years and has three sons: Colson (8), Keegan (6), and Cannon (2).

Rodney Flowers – Defensive Coordinator – Bixby HS (OK)
Coach Flowers just completed his 8th season for the Bixby Spartans. He has served as the defensive coordinator for the past six years and also coaches linebackers at Bixby. Coach Flowers has led the Spartan defense to five 6A-Div II state championships in 2014, 2015, 2016, 2018, and 2019 and a runner up finish in 2017. Prior to Bixby, Coach Flowers spent six years in Sulphur Springs (TX) coaching the defensive line. His 2008 team won the 4A-Div II state championship.

Sean Riley – Southwestern Assemblies of God University (TX)
Coach Riley is currently in his second season as the Associate Head Coach/Special Teams Coach and Recruiting Coordinator for SAGU. He also serves as an official kicking instructor/coach for the Dallas Cowboys Academy and a Blue Grey All-American Bowl Special Teams Coordinator. The Blue Grey game has had a kick or punt return for a touchdown six straight years. Prior to SAGU, Coach Riley coached Trinity Christian High School in Cedar Hill (TX) for eleven seasons and won two of the four state championship games they appeared in. In his eleven seasons, his Trinity Christian teams averaged six blocked punts, four blocked field goals, three kick returns for touchdowns, and two punt returns for touchdowns. The coverage teams were feared for their relentless style of swarm tackling.
Sean is a United States Navy veteran and played professional football for over ten years, making him one of the few college Special Teams Coordinators who also played professionally. Through the years, Sean has trained over 100 Division 1 kickers and punters.
Coach Riley completed his undergraduate and graduate studies from Liberty University Cum Laude and is currently finishing his doctorate in Strategic Leadership while serving as an associate professor in Sports Management at SAGU.

Jeff Conaway – AD/Head Coach Shiloh Christian HS (AR)
Coach Conaway's Shiloh Christian football team is one of the top powerhouses in Arkansas 4A football, finishing as the state runner-up this past season. Coach Conaway is recognized as one of the best in his class earning Back to Back 1-4A Coach of the Year honors and also being named the NWA Democrat Gazette Coach of the Year.

Andrew Shanle – Head Coach Cypress Ridge HS (TX)
Coach Shanle has been involved with football from the 8-man game to the NFL.  After playing 8-man football in Nebraska, Andrew went on to play defensive back for the University of Nebraska, and then on to the NFL where he enjoyed stints with the Chicago Bears and also the Super Bowl Champion, New York Giants. He began his coaching career in 2008 at Brenham High School in Texas where he helped guide them to the finals the following year. In 2012 he returned to Nebraska to serve as the Director of Track and Field at Midland University before eventually heading back to Texas and filling the role of defensive coordinator for Coach Gene Johnson at Cypress Ranch High School where they were state finalists in 2014.  In 2019, Shanle was named the Athletic Coordinator and Head Coach at Cypress Ridge High School. He and his wife, Sarah, have been married for 14 years and have three children – Brode, Bryson, and Emery.

Bryant Davis – Offensive Coordinator Fayetteville High School (AR)
Coach Davis has been developing high school offenses for the past 10 years in Northwest Arkansas.  He started as an offensive coordinator for the freshmen team at Bentonville before moving to Fayetteville in 2013 to serve as the O-line coach and run game coordinator. Coach Davis then took over the offensive coordinator duties at Springdale High from 2015-2018.  During two of those seasons, Springdale had the best record since the high school split including the first home playoff game. Last season, Coach Davis returned to Fayetteville to take over the offensive coordinator duties. During his coaching career, his teams have had one state championship and three state championship appearances and also produced the all-time leader in touchdowns at the wide receiver position. In 2018, his Springdale team produced the 7A West statistical leader at the quarterback and running back positions.

Deerick Smith – Southside High School Director of Strength and Conditioning
Coach Smith has been working as a strength and conditioning coach at the high school level for the past six years.  He is a former D2 All-American offensive lineman and is also a Certified Strength and Conditioning Specialist through the National Strength and Conditioning Association. Coach Smith has also had articles published in FNF magazine.

Adam Gaylor – Jenks High School Defensive Coordinator (OK)
Coach Gaylor has a wealth of experience at the high school and collegiate level. He began his career at Northeastern Oklahoma A&M Junior College coaching the defensive backs and linebackers where he coached the SWJCFC Defensive Player of the Year – Kenneth West.
In 2005, he became the defensive coordinator at Wagoner High School in which his defense allowed an average of 10 points per game including two shutouts in the playoffs. He became the safeties coach at the University of Central Oklahoma in 2006 and then moved to Broken Arrow High School from 2007-2013. At Broken Arrow, Coach Gaylor was the defensive coordinator during a span in which the Tigers reached the state semi-finals twice and were state runner-up once in 2011. Their defense broke several records during that time. After successful stints as head coach at Westmoore and a defensive coordinator at Mustang High School, Coach Gaylor now runs the defense at Jenks High School in Jenks, Oklahoma. Last season Jenks was the state runner-up. Gaylor's defense held the top-scoring offense in Division 6A to 14 points in the state final game and held seven of their 13 opponents to 17 points or less.

Russ Martin – Former Colorado Mesa University Head Football Coach
Martin has a strong reputation in the coaching ranks for his leadership and offensive insight. He has over 40 years of coaching experience both at the high school and collegiate levels including the past eight seasons at Colorado Mesa University. Martin was instrumental in turning around the Colorado Mesa program. His teams won three Rocky Mountain Athletic Conference titles and reached the NCAA Division II playoffs in 2016. Martin's coaching stops included Baylor, Kearney State College, Kansas Wesleyan, and Bethany College before landing his first head coaching job at Black Hills State in 1996. He spent four seasons leading the Yellow Jackets to several top 10 NAIA offensive rankings before then landing a Division 1 coaching job at Southeast Missouri State as the offensive coordinator where his teams racked up an impressive 26 school records and a national ranking.