KEYNOTE SPEAKER:
Mark Farley

University of Northern Iowa – Head Coach
UNI head coach Mark Farley, once known as the "walk on from Waukon", has led the Panthers to a mark of 134-67 in his 16 years at the helm of the program.
The Farley File Awards & Honors
2007 Eddie Robinson Award recipient
2007 Schutt Sports FCS Coach of the Year by American Football Monthly
2007 Liberty Mutual Coach of the Year finalist
2007 Led UNI to first perfect regular season in Gateway history
2005 Guided UNI to first national title game appearance
2005 Northwest Region Coach of the Year (Football Gazette)
2001, 2007 AFCA NCAA FCS Region 4 Coach of Year
2001, 2007 Gateway Bruce Craddock Coach of the Year
Placed 3rd in 2001 Eddie Robinson Award balloting
Placed 10th in 2003 Eddie Robinson Award balloting
Placed 12th in the 2008 Eddie Robinson Award balloting
Placed 15th in 2005 Eddie Robinson Award balloting
Best record (11-3) for MVFC rookie coach
Playing Experience/Highlights
University of Northern Iowa, 1983-86
Three-year starter at inside linebacker
Led the team in tackles 1984-86
1985 Gateway Conference Co-Defensive Player of the Year
Co-captain of 1985 1-AA national semi-final team
Three-time first team all-conference
Two-time honorable mention all-American
Two-time academic all-American
Outstanding Senior Athlete-Variety Club of Iowa
UNI Purple and Old Gold Award
OTHER SPEAKERS:

Clint Brown


South Dakota State University – Defensive Coordinator



Coached at the collegiate level for 22 years at SDSU, UNO, Wayne State, NE Wesleyan

Member of 1994 Huskers

Native of Arlington, NE

Randy Dreiling
St. Thomas Aquinas High School (Overland Park, KS) – Head Coach

Since the season of 2000, Coach Dreiling is 199-34 (85% win percentage)

In the last 17 years, he has played in 16 state semi-final games advancing to 12 state championship games

8 Time State Champion

2018 State Champion
Tom Wilson
Dowling Catholic High School (West Des Moines, IA) – Head Coach

Overall record of 245-61 (152-22 at Dowling Catholic)

5 Time State Coach of the Year

10 State Champions Games

7 Time State Champion including the last 6

Kim Nelson


Roosevelt High School (Sioux Falls, SD) – Head Coach



40thyear as Head coach
278 –129 overall
2011 State Champs, Runner Up in 1983, 2002, 2014,2015,2017
SD State Football Coach of the Year in 2011
Power of Influence National Finalist
Finalist for National Football Coach of the Year in 2014
8 time Conference Coach of the Year
4 time Region Coach of the Year
Metro Coach of the Year (Edina, MN.) 2007
SF Washington Hall of Fame (2015)
South Dakota Football Coaches Hall of Fame (2017)

Keith Riggs


Jenks High School (Jenks, OK) – Head Coach



Head Football Coach 2018
Assistant Head Coach / Def. Coordinator 2010 –2017 (4 State Championships, 1 Runner-Up)
Assistant Coach 2003-2009 (3 State Championships, 3 Runner-Ups)
Named to "Hudl 100" 2017 honoring key players in Sports and Technology

Mark Weisman

University of Iowa – Assistant Strength & Conditioning
Certified Strength and Conditioning Coach Certified (SCCC) through the Collegiate Strength & Conditioning Coaches Association
Certified Strength & Conditioning Specialist (CSCS) through the National Strength & Conditioning Association
Hawkeye football letterman from 2012-2014
Ranks 3rd in career rushing touchdowns at Iowa
Team captain as a junior and senior at Iowa
Finalist for Burlsworth Award presented to the top former walk-on

John Walsh


Guyer High School (Denton, TX) – Head Coach



 5 out of the last 10 years in the final 4
3 title appearances – winning 2 State Championships
Developed several Division I QB's:
Colby Freeman – Texas A&M/ACU
Kirby Freeman – Miami
Jarrett Lee – LSU
JW Walsh – Oklahoma State
Jerrod Heard – Texas
Shawn Robinson – TCU

Brian Wilken
Newell-Fonda High School (IA) – Head Coach
Topic: Mustang Defense – Individual and Team Drills
Head Coach at Newell-Fonda since 2000
Career record of 163-57
Won 2014 State Championship after starting season 0-3
Named IFCA State Coach of the Year in 2013
Regional Coach of the Year in 2003, 2005, 2011, 2014, and 2017
Assistant for 2002 North Shrine Team and Head Coach in 2016
Also serves as head boys track coach, assistant junior high baseball coach, and athletic director

Bill Arnold

Topeka Hayden High School  (KS) – Head Coach
Topic: Ins and Outs of Hayden Wing T Offense and program
3 year letterwinner at Benedictine College
Nine years as assistant at Arkansas City High School before moving to head coach at Scott City for seven years.
HC at Hayden for 12 seasons.
157-54 career record
State Title in 2008
Runner-up in 2009, 2014, 2016

Chris Holt

Lathrop High School  (MO) – Head Coach
Topic: Weekly Program Organization: Semi-Two Platoon Football- Coach Them All!
HC for four seasons at Lathrop
Over 125 wins with 1 state title, 2 runner-up
7 district titles
Missouri Coach of the Year
Named regional and district Coach of the Year multiple times
2018 State Runner-up

David Braun

North Dakota State University  – Coordinator
His D-line ranked 2nd in Big Sky Conference in tackles for loss and 2nd in sacks per pass attempt
Co-defensive coordinator at Winona State from 2011-2015
Winona State defense was 1st in the conference in sacks, pass defense, and first down defense in 2012
Played at Winona State where he was a two-year captain and all-conference selection in 2005 and 2006

Jon Holmes

Bishop Miege High School (KS) – Head Coach
Topic: Gap run game and RPO's off gap runs
4A state champs 2018
7 years as HC with record of 71-12
4 state titles and have played in the title game 6 of 7 years
2014 and 2016 Kansas City Metro Coach of the Year
10 former players currently playing at FBS or FCS level

Tyson Veidt

Iowa State University – Asst Head Coach/LB Coach
2018 Nominee for Broyles Award given to nation's top assistant coach
2017 Iowa State Defense ranked 2nd in Big 12 and 26 nationally in scoring defense
2017 defense ranked 3rd in Big 12 in total defense
Named linebacker Coach of the Year by Football Scoop
Transformed Joel Lanning from quarterback to All-American linebacker in 2017

Mike Cunningham

Northwest Missouri State University  – O-Line Coach
Native of Milford, NE
Previously coached at Minnesota State-Mankato, North Dakota, Nebraska, Winona State University, Concordia-St. Paul
At Winona State University his line allowed just 19 sacks, half of the 38 allowed the year prior to his arrival and ran for 21 rushing touchdowns, surpassing the 13 scores in both 2015 and 2014.
Averaged 160.8 rushing yards per game, an improvement of nearly 37 yards per contest and gained 28 more first downs on the ground

Kyle Peterson
Aurora High School (NE) – Head Coach

4th season at Aurora High school with a 38-9 record
Two state finals appearances in 4 years
2015 & 2018 State Champion
Head Coach of 2018 South team of the Nebraska Shrine Bowl
Justin Smith


Sergeant Bluff-Luton High School (IA) – Head Coach



2 State Titles as head coach at Wakefield High School (NE)
Two state playoff appearances in 4 years at Lincoln Northeast HS
50-16 record at Sergeant Bluff-Luton with 5 straight playoff appearances and two semi-final appearances

Jud Hall


Scottsbluff High School (NE) – Offensive Coordinator



18 years as an Assistant Coach in Colorado and Nebraska
6 years as Scottsbluff High School Offensive Coordinator
2018 – Class B State Runner-Up
2014-2015 Western Conference Male Assistant Coach of the Year
2013 – West Nebraska All Star Game Assistant Coach
2009-State Championship Team in Colorado (1A – Yuma)

Todd Dunn


Lawson High School (MO) – Head Coach



2003 and 2013 State Runner-Ups
2007 State Champions
2016 State Semi-finalist

Andy Means
Millard South High School (NE) – Head Coach

Played WR / DB at Holdrege High School. Played Corner at Nebraska 1978-1980. 2nd team All-Big Eight in 1979, Honorable Mention All-Big Eight in 1978 & 1980. Academic All-Big Eight in 1980.
Assistant Coach & Teacher at Grand Island in 1982, Assistant Coach & Teacher in Cedar Bluffs from 1983-1985. Assistant Coach & Teacher at Millard South from 1986 – 2003.
Head Coach and Teacher at Millard South from 2004- Present. Current record is 109-56.
2009 Undefeated State Champion.
Runners-up in 2008 and 2010. Only one of 5 coaches in Class A to make the finals 3 years in a row.
Millard South has made the playoffs 12 of the last 15 years.
Metro-Conference Football Coaches Association Coach of the Year in 2005 & 2009.
Nebraska Coaches Association Football Coach of the Year in 2009.
Millard Public Schools High School Teacher of the Year in 2016.

Jeff Tomlin


Grand Island High School (NE) – Head Coach



16 years as head coach at Grand Island High School
Prior to Grand Island, spent 13 years at Alliance High School with 9 as head coach
2 years at O'Neill High School and 2 years as undergrad assistant at Chadron State College
20 teams have qualified for state playoffs
6 times in the quarterfinals, 3 times in semifinals, and one runner-up finish
9 Conference Championships and 6 District Championships
Head coach in the Shrine Bowl (2008)
Huskerland Prep awarded him the Coach Mike Behrends Award (2013)
S. Marine Corps Semper Fi Coach of the Year 2016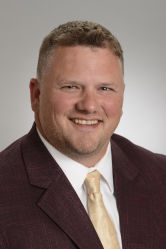 Jeremy Christiansen


Fremont-Mills High School (IA) – Head Coach



15th year as coach at Fremont Mills
2018 State Semi-finalist
2011 State Champion
6 Dome Appearances in the last 9 years

Zac Kliment
Creighton High School (NE) – Head Coach

Class D-1 State Champions 2018
Huskerland Preps 2018 D1 Coach of the Year
6 year assistant coach at Creighton with a record of 60-8 while in charge of the offense and defense
Assistant Coach at Briar Cliff University 1 year
Wide receiver for Sioux City Stampede (2017 MFA Champions, 2018 NEFL Champions)

Mitch Roberts

Johnson-Brock High School (NE) – Head Coach
Class D-2 State Champions 2018
2016 State Qualifiers
2017 State Quarterfinalist
2018 Huskerland D2 Coach of the Year

Chris Healy


Worth County/Northeast Nodaway High School (MO) – Head Coach



2017 State Champions 2018 State Runner-Ups
4 District Championships (13, 15, 17, 18)
7 years assistant:2007
2011 State Champions
2006 State Runner-Ups
4 District Championships (06, 07, 10, 11)